Log Home Rot Replacement
Log replacement is one of our most impressive and labor intensive services.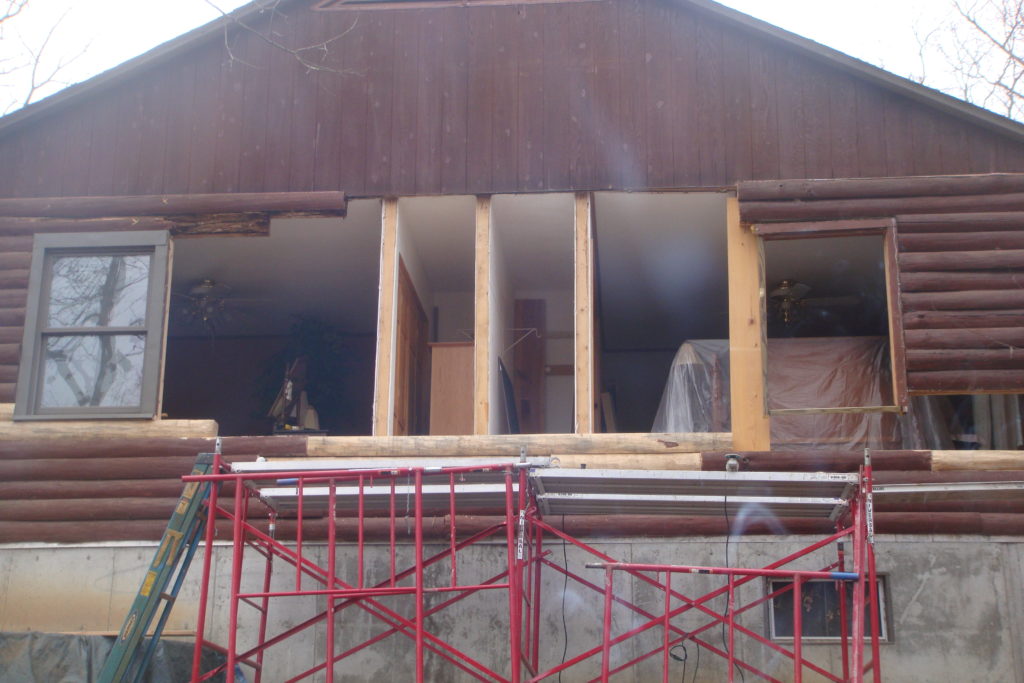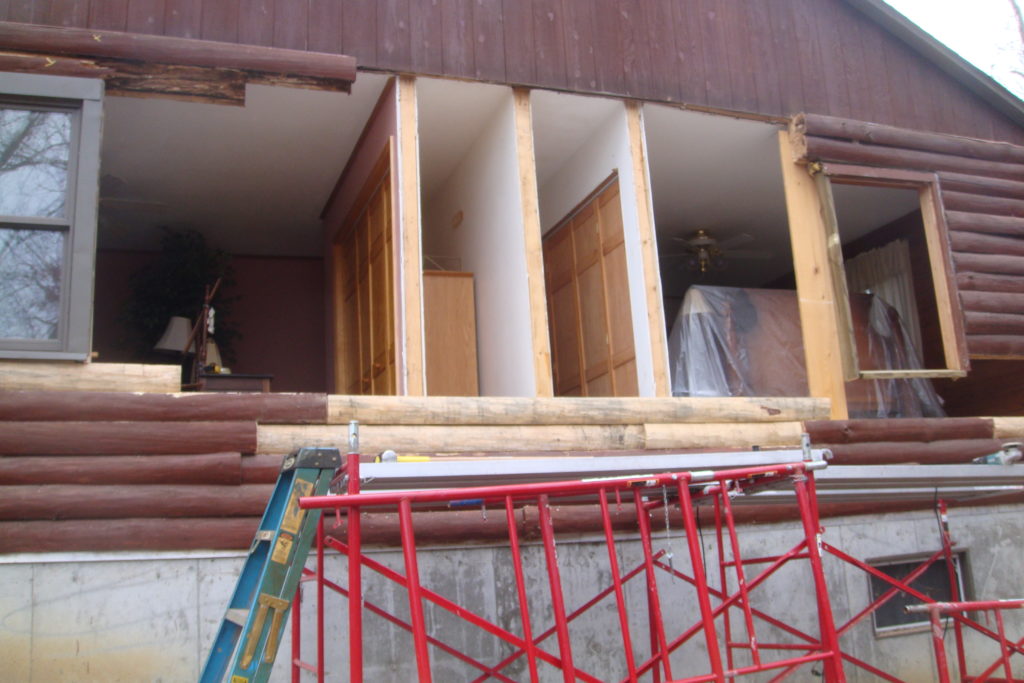 Log Rot Replacement on a Log Home or Cabin
Log replacement is one of our most impressive and labor intensive services. Almost all repairs are better left to those with experience, which is something that comes with practice. Elite Log Home Services has replaced and fixed decaying wood ranging from singular to numerous walls, and in all different species of wood. The advantage to hiring experienced applicators is that we will perform this type of repair with the most efficiency and accuracy. We know exactly what to look for, the causes of different types of decay, and how to remedy the situation. Regardless of the reason for decay – Insects, fungi, or a combination of both – remediation is the same: repair the damage, then fix the cause for the damage. Prior to contrary belief, rot does not just happen –there is always a reason for its occurrence. Rot or decay fungi, is caused by and requires three main factors to appear: moisture, temperature, and a food source. By controlling any of these three perpetrators, you will effectively control the spread of rot and decay. During the time of our proposals, we will evaluate the rot to the best of our ability as a first step to little or no additional footage cost. Be prepared for inevitable complications, as inspecting the footage of rot is difficult due to the potential depth and age of the specific occurrence, but do remember that the faster it can be repaired, the more money and time will be saved. 
If you own a log home, you know that you never want to encounter a day when inspecting the home only to find decaying logs. The truth of reality is that there may become a day when you do. If that day comes, don't overlook the decayed logs thinking it's going to be fine or go away. Once the logs start to decay it becomes cancer of the logs. It will keep spreading if not treated or removed completely. This is when you need to decide; do I repair it on my own?, replace the complete log?, or do I just half log, face replace it?. If you are not sure what to do than you need to call us now. With our expertise, we will give you the proper assessment and determine what is best for your own unique scenario. Log replacement can be tricky and intimidating to the homeowner. That's why its best to leave it to the experts. Full log replacement consist of evaluating the area of decay, making sure you keep the structural integrity of the home while removing, making incision all the way through the log to the inside of home, removing log completely and filling the void with a new log.
What not to do when you notice log rot on your log home.
Ignore thinking its going to get better on its own

Paint logs to hide the decayed wood or think that the paint will protect it.

Install a type of cladding/siding to cover the log rot.

Try to replace or repair with spray foam, concrete or other various materials that could cause more harm than good.
What to do when finding log rot on your log cabin
Call a reputable log home restoration contractor that specializes in log rot replacement.

Make sure they can fix the log rot repair. Not all Log home restoration companies specialize in log replacement.

Get a couple of bids from different companies and compare services offered.

For instance, one company might just do the replacement and be done. Leaving the rest up to you. At Elite Log Home Services, we will bid to do the log replacement, make sure the new log is borate treated, backer rod installed, chinked or energy sealed and stained inside and out to match existing coating.

Make sure they give you a heads up that there could possibly be more log rot footage based on the assessment. This eliminates surprise cost after you have already hired the log home specialist.
Contact Us Today!